MassMutual FutureSmart Challenge to Visit Five Cities in 2016
More middle-school students throughout the U.S. will have a chance to get smart about money as MassMutual's FutureSmart Challenge continues with its cross-country tour in 2016.
The national program provides financial education to middle-school students with the goal of empowering and challenging young leaders to take positive steps toward a successful career and financial security for themselves, their families and their communities. The event is held in collaboration with select National Basketball Association (NBA) teams, followed by Junior Achievement curriculum in participants' classrooms during the school year.
Now in its third year, the FutureSmart Challenge is visiting five cities in 2016, giving local agencies and agents an opportunity to interact with community and business leaders, as well as thousands of children and their families—including an additional 10,000 students this year. To date, the tour has stopped in Miami, Fla. (Jan. 20), Oakland, Calif. (Jan. 27) and Phoenix, Ariz. (Feb. 9).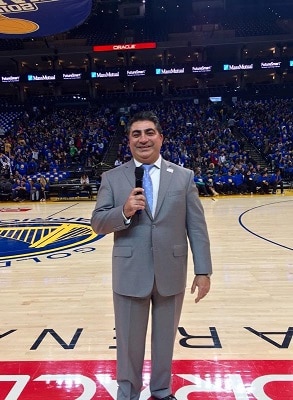 'Awesome job'
General Agent Robert B. Fakhimi, CLU, ChFC, CFP, Northern California and Silicon Valley agencies, and a number of his associates enthusiastically took part in the Oakland event, held in conjunction with the reigning NBA champion Warriors.
"MassMutual does an awesome job coordinating this program," Fakhimi said. "From the morning breakfast with area business leaders to the financial-education session with the kids to the Warriors game that night, it was an incredible experience."
Fakhimi gave the opening remarks at the breakfast meeting for some 80 business leaders, three of whom also participated in a panel discussion. Some of the agents at the breakfast also picked up leads from the business owners and Warriors executives in attendance.
Tangible and memorable lessons
Breakfast was followed by an educational rally with about 1,500 excited middle-school students at Oakland's Oracle Center, home of the Warriors. Award-winning actor and New York Times best-selling author Hill Harper hosted this part of the program, engaging the students in financial discussions and teaching them tangible, memorable financial lessons.
"Hill Harper is an incredible presenter and speaker," Fakhimi said. "He really held the kids' attention."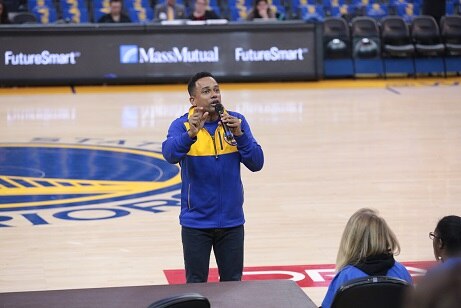 In addition, Warriors' cheerleaders led the kids in cheers and an "entertainment squad" showed off with some "really cool" trick shots and fancy ball handling, Fakhimi said.
The day ended with that night's Warriors game, where Fakhimi and MassMutual's Nick Fyntrilakis, vice president, Community Responsibility, addressed the capacity crowd of 20,000 fans from center court at halftime.
"We wanted to salute the kids for taking part in the FutureSmart Challenge," Fakhimi said. Though the crowds' attention was focused on the players who had already begun warming up for the third quarter, Fakhimi continued with his remarks. He later found out that he received an assist from Warriors star guard and reigning NBA most valuable player Stephen Curry.
"My 14-year-old son said Steph Curry was clapping for me while I was speaking," Fakhimi chuckled. "I told him no, he was clapping because he cares about kids."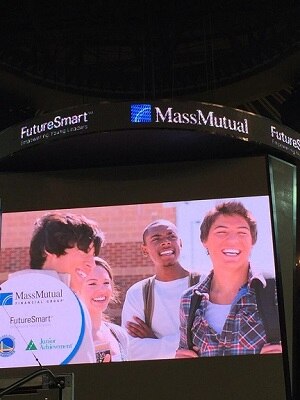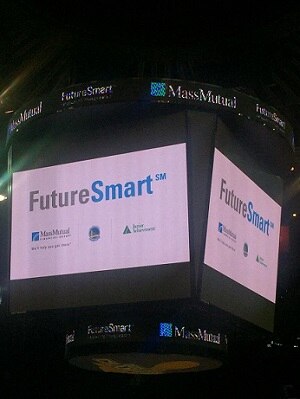 Brag big time

For Fakhimi, the FutureSmart Challenge is a "great program that positively impacts agents, the community and the kids. There is also tons of publicity, with all of the signage at the arena. MassMutual should brag big time about this program."
"With 25,000 students already FutureSmart, we are thrilled to continue with our third year of the challenge and further our mission of inspiring young leaders to take charge of their education, plan for their future and learn to manage their finances," Fyntrilakis said.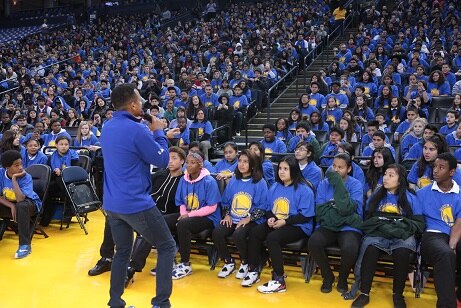 Since its inception in 2014, the FutureSmart Challenge has visited 12 cities, including Dallas, Los Angeles and Chicago. The remaining stops in 2016 are:
Feb. 16 in Charlotte, N.C., at Time Warner Cable Arena.
April 11 in Boston, Mass., at TD Garden.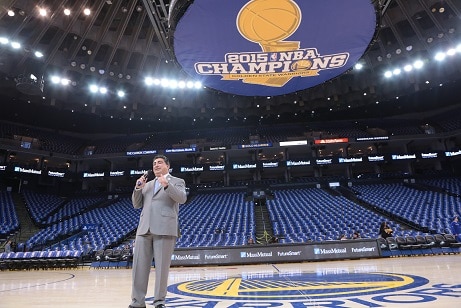 FURTHER INFO