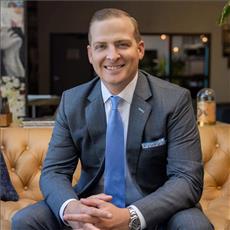 Professional Story
Focus Areas
Insurance Strategies, Investment Strategies (Reg. Reps Only), Retirement Income Planning, Risk Management Strategies, Estate Planning, Business Succession Planning, Business Owners, College Funding Strategies, Financial Education, Group Benefits, Retirement Strategies
Biography
Background
Eric was born and raised in San Carlos, CA and graduated from Carlmont High School. He received his bachelor's degree in Financial Mathematics and Statistics from University of California, Santa Barbara. In 2008, Eric joined the financial services industry and began building his practice in the Bay Area.
Eric holds his life insurance license, FINRA Series 7 and Series 66 registrations. He also holds the industry designation of Certified Financial Planner (CFP®) and Certified in Long Term Care (CLTC®)
Experience
Eric launched his financial services career in the employer-sponsored retirement plan market assisting public schools, hospitals, non-profits and municipalities/governmental entities. Eric was introduced to the public school market by his sister, an elementary school teacher in Foster City, and began focusing on retirement planning in the education sector. In less than five years, Eric helped over 300 educators throughout the Bay Area design, customize, and implement retirement plans to supplement their state provided pensions.
Clients
While Eric still works with many educators, he now predominantly works with business owners, professionals, and pre-retirees who are approximately 5-15 years away from retirement. As a Certified Financial Planner™, Eric is capable of offering comprehensive planning solutions including both insurance and investment vehicles. In addition, he and his advanced planning team assist small to medium sized businesses and their owners with retention and succession planning such as 401(k) plans, Defined Benefit plans, Deferred Compensation plans, Guaranteed Issue Disability Insurance, Buy-Sell Agreements and Key-Man Insurance.
As a Senior Vice President, Eric is also responsible for recruiting and developing talented individuals into successful financial services practice business owners.
Eric is passionate about being available to his clients and serving as a sounding board for all financial decisions. He prides himself on being a comprehensive financial planner as he works with clients to build strategies that encompass protection, savings and growth. Eric also leverages his network of industry experts by referring clients to those who specialize in matters he does not, such as Real Estate, Home/Auto/Health Insurance, Tax Advisory Services and Estate Planning.
Affiliations
Eric is currently the President of the Greater Bay Area of the National Association of Insurance and Financial Advisors (NAIFA) and is a member of the East Bay Chapter of the Financial Planning Association (FPA). Eric is also an Eagle Scout and is a lifetime member of the National Eagle Scout Association (NESA).
Personal
Eric lives in Pleasant Hill with his wife, Julia, and their son, Nicholas, where they love to explore new restaurants with family and friends. In his free time, Eric enjoys traveling and playing golf. Eric and Julia enjoy weekend trips to Lake Tahoe, Napa Valley, Palm Springs and Santa Cruz and when possible love to travel internationally.
Coverpath - Get a quote for term life insurance

CRN202209-271042
Check the background of this investment professional on FINRA's BrokerCheck
Personal Story
Education
University of California, Santa Barbara
Hobbies
Golf
Tennis
Travel
Snowboarding
Surfing: Backgammon
Health and Fitness
Affiliations & Memberships
National Association of Insurance and Financial Advisors (NAIFA)
Financial Planning Association (FPA)
National Eagle Scout Association (NESA)
MassMutual Northern California
MassMutual Northern California Office