MassMutual Northern California Awarded 13th Gold Bowl Chairman's Trophy
WALNUT CREEK, CA--March 17, 2016 - Massachusetts Mutual Life Insurance Company (MassMutual) has announced that the MassMutual Northern California, under the leadership of Robert Fakhimi, general agent, has earned a 13th Massachusetts Mutual Life Insurance Company's (MassMutual) National Chairman's Trophy as a top performer in 2015. With this most recent trophy, Fakhimi's agency has received the prestigious award for performance 13 times since 2002. The group holds the current active record for the most Chairman's Trophy awards by an agency.
MassMutual has an extensive field force of more than 5,000 agents in 84 national offices. The Chairman's Trophy reflects an individual agency's growth and accomplishments in business development, increased staff and financial professionals and productivity. Only a select group of general agents wins the award annually.
"It's an honor to be recognized once again. It's because of our committed team members who work hard to deliver the best to our clients each and every day," Fakhimi said. "We are proud of our associates and thankful for our clients. Here's to another great year."
MassMutual Northern California has produced numerous outstanding career professionals since General Agent Robert Fakhimi joined as head of the office in 2001. The Agency is headquartered in Walnut Creek, with additional offices in San Francisco, Fremont, Roseville and San Jose.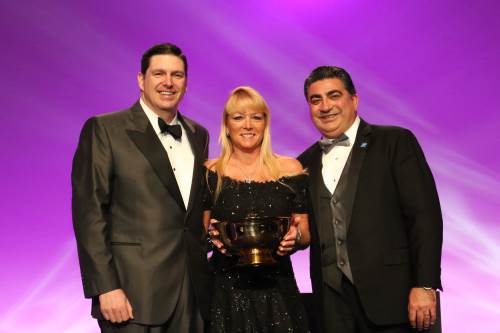 About MassMutual
Founded in 1851, MassMutual is a leading mutual life insurance company that is run for the benefit of its members and participating policy owners. The company has a long history of financial strength and strong performance, and although dividends are not guaranteed, MassMutual has paid dividends to eligible participating policy owners consistently since the 1860s. With whole life insurance as its foundation, MassMutual provides products to help meet the financial needs of clients, such as life insurance, disability income insurance, long term care insurance, retirement/401(k) plan services, and annuities. In addition, the company's strong and growing network of financial professionals helps clients make good financial decisions for the long-term.
MassMutual Financial Group is a marketing name for Massachusetts Mutual Life Insurance Company (MassMutual) and its affiliated companies and sales representatives. MassMutual is headquartered in Springfield, Massachusetts and its major affiliates include: Babson Capital Management LLC; Baring Asset Management Limited; Cornerstone Real Estate Advisers LLC; The First Mercantile Trust Company; MassMutual International LLC; MML Investors Services, LLC, Member FINRA and SIPC; Oppenheimer Funds, Inc.; and The MassMutual Trust Company, FSB. Local sales agencies are not subsidiaries of MassMutual or its affiliated companies. Agency Officers are not officers of MassMutual.
###
Contact:
Erica Zeidenberg
Hot Tomato Marketing
925-631-0553